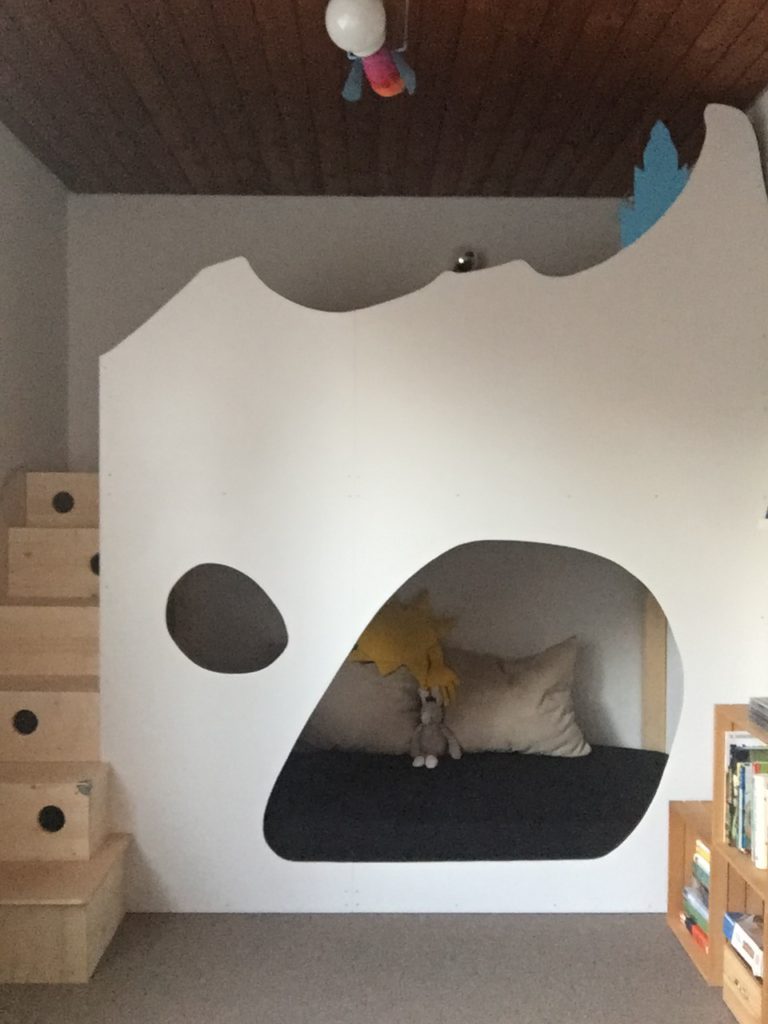 A shared bedroom for two siblings. The aim was to create enough privacy and retreat possibilities for each of the children and at the same time to create quality of stay without having the feeling of lying in one bed. The headroom in both units is 1.10m measured between the top of the mattress and the ceiling. In contrast to standard bunk beds, this allows the children to sit upright and play freely without being cramped. Small secret compartments, pull-outs and shelves make this room furniture complete.
Design / Theme
. according to children's wishes. bottom bed 'Life in a cave' . top bed 'The Ice Castle on North Mountain in Arendelle'
. frame construction out of solid structural timber. metal wraps as connectors
. panelling and covering of the intermediate level with veneer plywood
. stairs and storage made out of spruce boards
. wood untreated, left natural sanded, only decorative elements painted with water-based varnish
. L / W / H 250 / 120 / 250 cm
. fits full-size slatted frames 90 / 200 cm
Sold.
300 EUR . Design project .
Detailed design and sketches ready for the carpenter.
Materials and Manufacturing, slatted frames and mattresses not included.
You like it? Let's get hands on your next Design project.